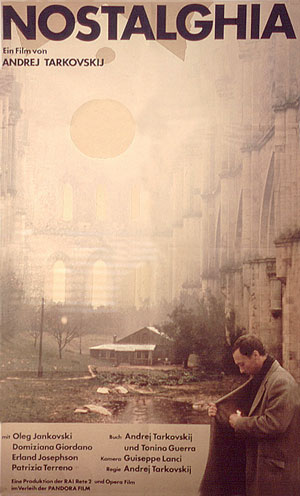 Nostalghia was Russian director Andrej Tarkovsky's final film in his homeland before his defection to the West. It is an enigmatic work about a Russian writer (Oleg Janofsky) who, trapped by his fame and an unhappy marriage, seeks out his cultural past in Italy. Here he meets Erland Josephson, a local pariah who declares that the world is coming to an end. The writer finds this prophecy curiously more alluring than the possibility of a dead-end future. This haunting fable ends with a scene of self-immolation. As one can see, Nostalghia is hardly a "feel good" movie. It is, however, universally hailed as a masterpiece: the film won the Grand Prix de Creation and the International Critics Prize at the 1984 Cannes Film Festival.
Hal Erickson, All-Movie Guide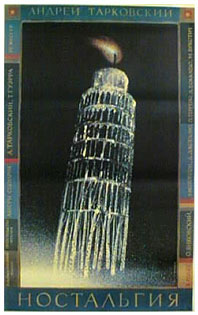 The first film of Tarkovsky to be made outside USSR — due to the director's self-exile — was followed by The Sacrifice which marked the end of his contribution to cinema. The legacy of Tarkovsky's spirit is well engraved on films such as this one which tackle the eternal quest for man's release from the gloomy reality of the mundane, given through the idiosyncratic angle of a Christian but ultimately pessimistic intellectual.
Tarkovsky follows here the Bergmanesque line of psychodrama as his main character, profoundly influenced by these two encounters, is led towards the ultimate struggle for individual catharsis. The dark, permanently wet setting, reminiscent of Stalker and The Mirror, supplants the typical Tarkovsky reticence with some unique metaphysical allusions. The slow-moving camerawork may rend some scenes infuriating but the mystic beauty which emanates from the film - sequences like the one where the madman is burned in a square under the sounds of Beethoven's ninth symphony - gives Nostalgia an awe-inspiring, even disturbing vision of man's struggle for true faith.
Spiros Gangas, Edinburgh University Film Society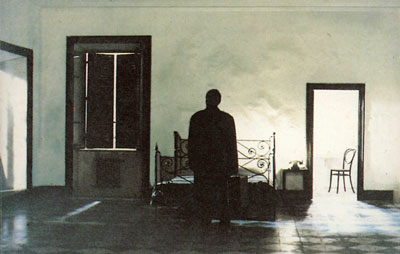 A meditative film by visionary Soviet filmmaker Tarkovsky that lures viewers into its mysterious, mystical world and completely envelops them for a two-hour stretch. Yankovsky is a Soviet architecture professor who travels to northern Italy's Tuscan Hills to research an exiled 18th-century Russian composer who committed suicide there. Away from his homeland, Yankovsky becomes nostalgic suffering with his unfulfilled desire to return to a home that is out of reach. The melancholy Yankovsky becomes involved with Giordano, his volatile, strong-minded interpreter. Their relationshop, however, is never consummated and gradually deteriorates. Their romance is strained even further by Yankovsky's growing friendship with Josephson, a batty Italian professor who years ago locked his family inside their house and awaited Armageddon--for seven years. Josephson proves too much for Giordano, who makes plans to return to her lover in Rome. Yankovsky finds Josephson living among the rain-soaked ruins of a 16th-century spa. In this ancient crumbling structure is a large, placid mineral bath that Josephson unsuccessfully tries to wade across (its waters are chest-high) while holding a lit candle. His crazy belief is that to save mankind he must cross the bath without letting the candle flame extinguish. Having once again failed, Josephson makes a public proclamation. He climbs atop Michelangelo's statue of Marcus Aurelius in Rome, plays Beethoven's "Ode to Joy" on a portable turntable, and shouts prophetic doomsday messages to those who'll listen. At the same time, Yankovsky has taken up Josephson's plight to cross the bath. His first two attempts fail, each time the candle flame flickering out in the swirling drafts of hot air. Back atop the statue, Josephson soaks himself with kerosene and sets himself ablaze. As he burns to death, Yankovsky completes a successful trip across the waters. The candle burns, but Yankovsky's energy is extinguished. Struggling at the water's edge to stay alive, Yankovsky envisions his homeland as the snow covers its grassy hills.
The final sequence of NOSTALGHIA is one of the most captivating ever put on film. The viewer becomes completely swept away by Tarkovsky's world where the elements reign supreme—fire and water are everywhere. The atmosphere Tarkovsky creates is one of constantly dripping water, unsettling mists, and dew seeping through the eternally damp walls. Coupled with these memorable visuals is a remarkable highlighting of sounds (a job admirably performed by Remo Ugolinelli) such as the echoing drip of water or the swirling of the drafts.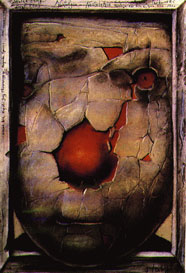 In seinem ersten im Ausland entstandenen Film meditiert Andrej Tarkowskij über das profunde Gefühl der "Nostalghia": die Sehnsucht nach der verlorenen geografischen wie spirituellen Heimat, der Schmerz über die Kommunikationsunfähigkeit der technokratischen Welt, die verzweifelte Suche nach dem metaphysischen Sinngehalt alltäglicher Dinge und Wahrnehmungen. Eine mit vollendeter Meisterschaft inszenierte Traumreise durch die Bruchstellen der abendländischen Kultur - mit suggestiven Bildvisionen, die von einem dicht geflochtenen Netz religiöser und literarischer Querverweise kommentiert werden.
Lexikon des Internationalen Films
---
If the neorealist cinema of Vittorio de Sica and Federico Fellini explored the empirical essence of a man's primordial soul, Andrei Tarkovsky's "Nostalghia" is the poetic expression of the spiritual soul. ... Note the chromatic shift between the lush Italian landscape and the muted tone of the Russian countryside, illustrating his nostalghia, the pervasive longing for meaning—the "spiritual light"—that has eluded him. Separated from his family, far from his homeland, and now alone, he sets out to perform the existential mission.
Highly cerebral, beautifully realized, and symbolically obscure, "Nostalghia" is a cinematic abstract of spiritual hunger. Indeed, Andrei's indefinite journey, the church supplicants, and Domenico's final incomprehensible act, manifest this innate longing. Note the final scene where Andrei shields the precariously lit candle by opening his overcoat. It is a symbolic revelation of the soul—the struggle against the extinguishing of the spiritual flame—that inevitably redeems him. But it is an ominous closure, as muted colors now suffuse the Italian streets, tainting them with the same melancholic longing that consumes him. Tarkovsky filmed "Nostalghia" in exile and dedicated the film to the memory of his mother. It is a threnodic film that mourns an irretrievable past and an uncertain future.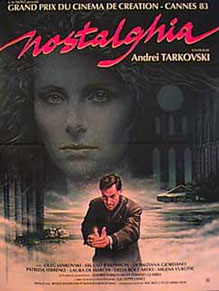 Director: Andrej Tarkovskij
Screenplay: Andrej Tarkovskij, Tonino Guerra
Producer: Francesco Casati
Executive Producer: Lorenzo Ostuni, Renzo Rossellini, Manolo Bolognini
Director of Photography: Giuseppe Lanci (Technicolor)
Original Music: Claude Debussy, Richard Wagner, Ludwig van Beethoven, Giuseppe Verdi
Film Editor: Amedeo Salfa, Erminia Marani
Sound: Remo Ugolinelli
Production Design: Andrea Grisanti
Set Decoration: Mauro Passi
Costume Design: Lina Nerli Taviani
Makeup: Giulio Mastrantonio
Special Effects: Paolo Ricci
Production Companies: RAI Rete 2, Opera Film Produzione (Roma) / Sovin Film (Moskva)
Distributor: Grange (USA) / Pandora (BRD) / Gaumont (France) / Sacis (Italia)
Runtime: 125 min
Cinematographic process: Technicolor, 35 mm Spherical, Kodak Film, Aspect ratio 1.66:1 Widescreen
Sound Mix:
Filming Locations: Roma / Bagno Vignoni (Italy) / Production Dates: November 1982 - March 1983
Release dates: May 1983 (Cannes film festival); 2 June 1983 (Italia); 20 January 1984 (BRD)
Awards: Cannes Film Festival 1983 Best Director Andrej Tarkovskij (Tied with Robert Bresson for L'Argent); FIPRESCI Award Andrej Tarkovskij; Nominated Golden Palm Andrej Tarkovskij