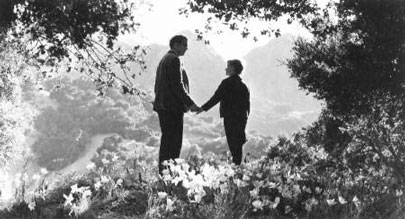 How Green Was My Valley is fondly remembered by fans of director John Ford for its loving recreation of a Welsh coal mining village. Spanning some fifty years in the life of its protagonist, the film presents an often poignant portrait of the good and bad of small town life. At the center of the story is the dehumanization brought by increasing technology; the scenes in which more efficient machinery makes some of the mines' best workers unneeded and unemployed remain relevant to today's audiences and our environment of shifting corporations and uncertain security. Ford scholars differ on where to rank How Green Was My Valley — indeed there is no clear consensus on what film critics and historians consider to be Ford's greatest — but it was a popular choice as the best film of 1941, winning five Oscars, including Best Picture and Best Director.
Richard Gilliam, All-Movie Guide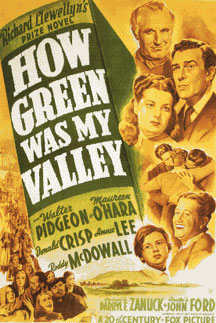 An elaborate Welsh village was constructed by Fox for this film, which was stunningly photographed by Arthur Miller and which, in this 35mm nitrate print, displays the uniquely poetic quality of John Ford's finest films. Ford's screen version of Richard Llewellyn's sentimental story of a Welsh coal-mining family at the turn of the century destroyed by the greed of industrialists was awarded five Oscars. The film is constructed in flashback, to the recollections of the youngest Morgan son (Roddy McDowell) as he heads out of his village for parts unknown. He tells of his parents (Donald Crisp and Sara Allgood), his four older brothers, all miners, his sister (Maureen O'Hara in her first featured Ford role), and the minister who loved her (Walter Pidgeon). In his book, The Cinema of John Ford, John Baxter writes, "To Ford, 'family' is a concept more than a group of people, a dynamic, not a static institution, an instrument for change rather than for stability.... As in The Grapes of Wrath, the family [here] is not so much destroyed as encouraged to change, and in changing to dominate its environment, a process that detaches some members but ends with the purpose fulfilled...".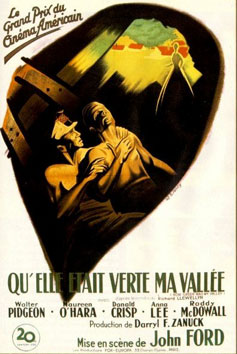 This was one of John Ford's undisputed masterpieces, a film that does not fade after repeated viewings. The mining area in South Wales and its hard-working miners and their families are shown through the eyes of the juvenile McDowall, the youngest of seven children in a family called Morgan, headed by Crisp and Allgood. [...]
Master director Ford builds one simple scene upon another without much plot at all, using incidents affecting the Morgan family to tell the tale, and to record the tragedies. Crisp the patriarch, his loyal wife, strapping sons, beautiful daughter, and little boy are captured in these simple scenes: the father and his huge sons return from work at the beginning of the film to bathe in old wooden tubs, scrubbing the grime of the coal mine from their bodies; again in a later scene at the dining table, Crisp says grace and carves a roast they have all worked so hard to have. Crisp is wonderful as the family's tower of strength and courage, a man imminently worthy of respect. Matching him Allgood, as the heart of the family who miraculously endures all that fate throws her way, never bending but instead becoming stronger. None but Ford could take such a simple tale and make of it such a masterpiece.
Beautifully assisted by cameraman Miller, Ford received strong support from Fox chief Zanuck, who personally produced this film. Zanuck originally wanted to film the movie in Rhondda Valley, Wales, but WW II prevented the on-location shooting so he had the entire Welsh village, coal mine, and adjacent buildings constructed on 80 acres in California's San Fernando Valley (which brought forth some minor criticism in Wales that the film did not conform to the topography of the original novel). More than 150 workmen labored for six months to create the marvelous outdoor set. Zanuck, who had produced THE GRAPES OF WRATH, also directed by Ford, a year earlier, was then in a period when he favored adapting significant novels to the screen, even though the compromises were considerable. But, like GRAPES OF WRATH, this film was about a family in stress, and Ford placed the emphasis not where it belonged in the literary work, but where it counted most in front of the camera. Just after completing this film Ford joined the photographic branch of America's super spy service, the OSS (Office of Strategic Services), taking a host of Hollywood talent with him, including Gregg Toland, Budd Schulberg, Garson Kanin, Daniel Fuchs, Ray Kellogg, and Joseph Walker. The film won the Oscar for Best Picture and also won for Best Director (one of four times Ford would win the award), Best Supporting Actor (Crisp), Best Cinematography, and Best Interior Decoration. It was nominated for Best Supporting Actress (Allgood), Best Screenplay, Best Sound, Best Score, and Best Editing. Crisp, who had begun his long career with film patriarch D.W. Griffith in 1908, said in his acceptance speach "Others, old-timers, should be given a chance, and they, too, could win Awards." When he sat down, Walter Brennan, three-time Oscar winner, kissed Crisp on the top of his head.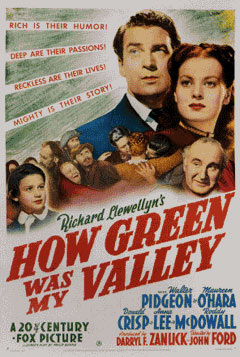 Director: John Ford
Screenplay: Philip Dunne (based on the novel by Richard Llewellyn)
Producer: Darryl F. Zanuck
Director of Photography: Arthur C. Miller, A.S.C. (b/w)
Camera Operator: Joseph La Shelle
Original Music: Alfred Newman
Music Orchestrator: Hugo Friedhofer, Edward B. Powell
Film Editor: James B. Clark
Sound: Eugene Grossman, Roger Heman
Art Direction: Richard Day, Nathan Juran
Set Decoration: Thomas K. Little
Costume Design: Gwen Wakeling
Makeup: Guy Pearce
Matte Artist: Chesley Bonestell (uncredited)
Special Effects: Chesley Bonestell, Fred Sersen (Special photographic effects, uncredited)
First Assistant Director: Edward O'Fearna
Production Companies:20th Century Fox
Distributor:20th Century Fox (USA) / Centfox (BRD)
Runtime: 118 min
Cinematographic process: 35 mm Spherical, Black & White, Academy Ratio 1.37:1; Laboratory DeLuxe, Hollywood
Sound Mix: Mono
Budget: $1.25m
Release dates: 27 December 1941 (USA) / 28 April 1950 (BRD)
Awards: Academy Awards 1942 Oscar Best Art Direction-Interior Decoration, Black-and-White Richard Day, Nathan Juran, Thomas Little; Best Cinematography, Black-and-White Arthur C. Miller; Best Director John Ford; Best Picture Darryl F. Zanuck; Best Supporting Actor Donald Crisp; Nominated Oscar Best Film Editing James B. Clark; Best Music, Scoring of a Dramatic Picture Alfred Newman; Best Sound, Recording Edmund H. Hansen (20th Century-Fox SSD), Best Supporting Actress Sara Allgood; Best Writing, Screenplay Philip Dunne // National Film Preservation Board 1990 - National Film Registry // New York Film Critics Circle Awards 1941 Best Director John Ford