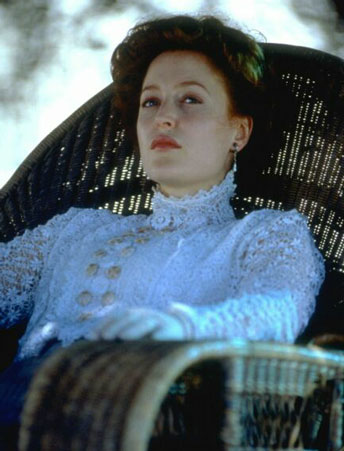 Gillian Anderson als Lily Bart
---
New York, 1905. Though dependent on her aunt, Lily Bart (Gillian Anderson) has a great deal going for her: beauty, wit, wealthy, well connected friends, and true independence of spirit — but she's in a dilemma over her future: should she settle for lawyer Lawrence Selden (Eric Stoltz), with whom she's discovered a mutual attraction and the prospect of romantic happiness, or aim, conventionally, to wed someone... well, richer? The rules of the game are harsh and inflexible, and when she catches the eye of Gus Trenor (Dan Aykroyd), husband to a friend of the influential Bertha Dorset (Laura Linney), the proud, almost perversely honourable Lily falls prey to the gossip, hypocrisy and manipulations of a set that values decorum, reputation and status above all else. Terence Davies' masterly adaptation of Edith Wharton's novel is an extraordinary triumph which simply puts most other recent screen adaptations of the classics to shame. Though period and place are very sensitively evoked, Davies sidesteps superficial details to home in on both the cruel nuances of the in-crowd's polite rituals and the resultant suffering as Lily succumbs to disgrace, despair, poverty and worse. Shot in 'Scope, it's a marvellously elegant (but mercifully unflashy) film of faces in expressive, sombre close-up, and succeeds as an intellectually satisfying, emotionally devastating study of injustice, enforced solitude, wasted opportunities and love never quite gratified. The casting (which also provides substantial roles for Anthony LaPaglia, Elizabeth McGovern, Eleanor Bron and Jodhi May) is inspired, while Anderson in particular fully repays her director's faith with an immaculate, unsentimental but enormously moving performance. Davies' discreetly imaginative writing, sure sense of pace, and customary unflinching honesty make for a film that touches both the heart and mind very deeply indeed. Absolutely superb; don't miss it.
With consummate grace and exceptional style, Terence Davies transformed Edith Wharton's caustic tragedy of manners into a somber, languid dream. New York, 1905: In the rarefied air of high society, where a young woman's vocation lies in marrying well and one false move can leave her reputation in tatters, Lily Bart (Gillian Anderson) is playing a dangerous game. A charming, unmarried woman of increasingly limited means, Lily knows her time is nearly up; she's getting older, she's been out in society for too long, and she's running up debts she can't repay from the allowance her aunt (Eleanor Bron) grants her. Lily piques the interest of a dull, wealthy prig (Pearce Quigley), but lets him slip through her fingers for an afternoon dalliance with the man she could marry for love, fortuneless lawyer Lawrence Selden (Eric Stoltz). In the eyes of her best friend Judy Trenor (Penny Downie), Lily's made a big mistake. But it isn't nearly as damaging as the financial arrangement Lily makes with Judy's husband (Dan Aykroyd), who agrees to invest a little money on Lily's behalf. When he starts handing her dividend checks with the expectation of a little gratitude, the tongues of Lily's vain and shallow "friends" begin wagging, and her downfall has begun. In a film studded with good performances — Laura Linney is perfectly terrifying as Lily's smiling nemesis, Bertha Dorset — Davies took a gamble with Anderson, a largely untried dramatic actress best known for her work on TV's The X-Files. The risk paid off: With a raised eyebrow and curled upper lip, she never seems completely comfortable in the role of coquette, and there's something slightly artificial about her performance. In a sense, she's perfect for the role of a woman who, as Selden describes her, "has it in her to be whatever she believed to be." When the mask slips, she's heartbreaking.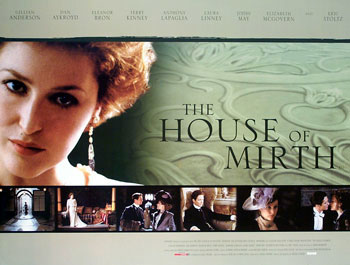 "If she slipped she recovered her footing, and it was only afterward that she was aware of having recovered it each time on a slightly lower level." Edith Wharton's encapsulation of the narrative form of her tragic (and sexy) 1905 novel, describing the progressive defeat of socialite Lily Bart by the ugly indifference of Wharton's own leisure class, is given an extra touch of Catholic doom in Terence Davies's passionate, scrupulous, and personal adaptation, which to a surprising degree preserves the moral complexity of most of the major characters. It's regrettable if understandable that the Jewishness of social climber Sim Rosedale (Anthony LaPaglia) is no longer an issue, and Lawrence Selden, Lily's confidant, is somewhat softened by a miscast Eric Stoltz, but the cast as a whole is astonishing--especially Gillian Anderson as Lily and Dan Aykroyd in his finest performance to date. Davies feels and understands the story thoroughly, giving it a raw emotional immediacy that would be unthinkable in the shopper-friendly adaptations of Merchant-Ivory and their imitators, and the film's feeling for decor and costumes, derived from both John Singer Sargent paintings and Orson Welles's The Magnificent Ambersons, is exquisite.
Jonathan Rosenbaum, Chicago Reader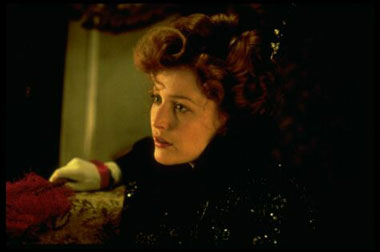 Director: Terence Davies
Screenplay: Terence Davies (from the novel "The House of Mirth" by Edith Wharton)
Producer: Olivia Stewart
Co-Producer: Alan J. Wands
Executive Producer: Pippa Cross, Bob Last
Director of Photography: Remi Adefarasin, B.S.C. (Deluxe Color, Super35)
Original Music: Adrian Johnston
Additional Music: Alessandro Marcello, Joseph Haydn, Aleksandr Borodin, W.A. Mozart, Giocchino Rossini, Morton Feldman, Aleksandr V. Tamir
Film Editor: Michael Parker
Sound: Paul Hamblin
Production Design: Don Taylor
Art Direction: Diane Dancklefsen
Set Decoration: John Bush
Costume Design: Monica Howe
Makeup/Hair Designer: Jan Harrison-Shell
Visual Effects: Peerless Camera Co. London
SFX Supervisor: Stuart Murdoch
Casting: Billy Hopkins, Suzanne Smith, Kerry Barden
First Assistant Director: Guy Travers
Production Companies: Three Rivers Production / Granada Film Litd. / The Arts Council of England / The Scottish Arts Council / Film Four Ltd. / Showtime Networks Inc. / The Glasgow Film Fund / Diaphana SARL [fr] / Kinowelt Medien AG [de] / Progres Film Distribution
Distributor: Sony Pictures Classics (US) / Film Four Distribution (UK)
Runtime: 140 min
Cinematographic process: Color by Deluxe, 35 mm Anamorphical, Super35 2.35:1 / Cameras by Arri Media
Sound Mix: Dolby Digital
Budget: US$10m
Filming Locations: Glasgow, Scotland: Glasgow City Chambers; Kelvingrove Art Gallery & Museum; UK Theatre Royal (Opera House interiors) / Gosford House / Manderston House / The South, France

Release dates: 5 August 2000 (Locarno Film Festival); 13 September 2000 (Toronto Film Festival); 23 September 2000 (New York Film Festival); 13 October 2000 UK); 22 December 2000 (USA-Limited); 7 March 2001 (France)
Awards: British Academy Awards 2001 Nominated Alexander Korda Award for Best British Film Terence Davies, Olivia Stewart // British Independent Film Awards 2000 Best Actress Gillian Anderson // Golden Satellite Awards 2001 Best Art Direction Don Taylor // USC Scripter Award 2001 Nominated Terence Davies (screenwriter)