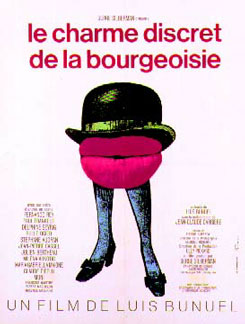 In this surrealist satire reminiscent of his earlier L'Age d'Or (1930) and The Exterminating Angel (1962), Luis Buñuel leavens his attack on class privilege with light comedy. With a narrative that interweaves flashbacks within dreams within a dream, Buñuel interrogates the absurdities of bourgeois ceremony and hypocrisy, as two well-heeled couples and their two friends, including a drug-running South American ambassador, can't conduct a dinner party in peace. Foiled by (among other things) botched scheduling, sexual desire, a theater audience, an untimely funeral, and armed revolutionaries, the sextet's inability to eat increasingly suggests a manifestation of their innermost fears, while Buñuel's repeated interruptions of the story cheekily defy movie conventions and straightforward interpretations. Eschewing both a musical score and anything resembling closure, Buñuel renders the film as unsettling as it is funny, as the bourgeoisie soldier on towards a meal they never have. Internationally acclaimed for its sharp wit and technical virtuosity, The Discreet Charm of the Bourgeoisie won the National Society of Film Critics' Best Picture Prize and the 1972 Best Foreign Film Oscar, confirming once again Buñuel's place as one of cinema's greatest experimental artists and satirists.
Lucia Bozzola, All-Movie Guide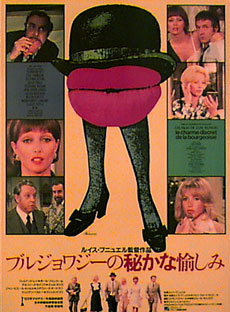 Le charme discret est un film drôle, cela va sans dire. Mais sa nonchalance ne peut masquer sa férocité. Si la dernière œuvre de Buñuel compte désormais parmi ses plus grandes réussites, c'est bien parce que son metteur en scène, non content de moquer ou de dénoncer telle ou telle classe sociale, telle ou telle conduite ignoble ou grotesque, a encore la force de changer de style - marque d'un créateur en pleine possession de ses moyens. Délaissant aussi bien le surréalisme désormais "classique" de L'âge d'or que les récits plus linéaires et parfois directement fantastiques, il a su imposer une forme éclatée qui, par la force déroutante de ses allusions, références et impropriétés, conteste à son tour la bourgeoisie sur l'un des plans qui lui tiennent le plus à cœur : le plan formel où elle a coutume de se représenter et de se reconnaître.
Frédéric Vitoux, Positif n° 146, janvier 1973
One of Luis Bunuel's greatest and funniest films, and the winner of a Best Foreign Film Oscar, THE DISCREET CHARM OF THE BOURGEOISIE is a brilliant surrealistic joke about a group of friends whose attempts to dine are continually thwarted.
[...] Although Bunuel made DISCREET CHARM at the age of 72, it has an insouciant charm and an effortless ebullience that offers continual delight. When he was a young surrealist, Bunuel used a violent style to attack society, but by the '70s , normal society itself had become violent, so instead, he used humor as a weapon. The "plot" is a kind of reverse premise of Bunuel's masterful THE EXTERMINATING ANGEL (1962), which concerned people who could not leave a dinner party, but it's merely a peg on which he hangs a deliciously absurd series of surrealistic gags and dreams to explore the main theme of all his movies: frustrated desire. In DISCREET CHARM, the dreams literally take over the whole film, as one unfolds within another until we no longer know what's "real" and what's not, although Bunuel's ultimate joke is that in film, nothing is real. The film's most savage joke may be that all these charming, attractive, and highly-paid actors, along with Bunuel himself, are part of the class that he's satirizing, as he once acknowledged that being a film director is perhaps the most bourgeois profession in the world.
---
Buñuel's account of the attempts of six wealthy people to sit down to dinner is the comedy of manners to end all comedies of manners. With la crème de la crème of European actors, Buñuel produces, in lieu of something edible, the secret ingredient of the bourgeois power base, which might be the desire for thwarted desire. Cuisine interruptus. As Raymond Durgnat wrote, "Their plague is not the Exterminating Angel but the Interrupting One.'La vie moderne est faite de ruptures.'" It's never the right time for sex or food—a theme that goes back to L'Age d'or—but the rituals of sangfroid continue in the face of a pot-smoking militia and terrorists at the door, the elusive leg-of-lamb and the rubber chicken, waking nightmares and walking dreams. If reality is a promise, so is consumption, and one can live on air.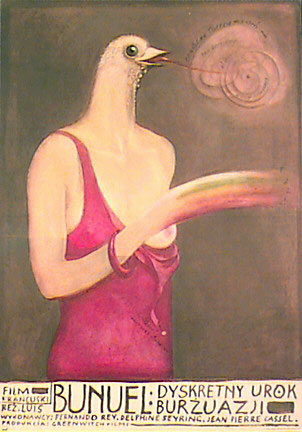 Director: Luis Buñuel
Screenplay: Luis Buñuel, Jean-Claude Carrière
Producer: Serge Silberman
Executive Producer: Ully Pickard
Director of Photography: Edmond Richard (Eastmancolor)
Original Music: Guy Villette
Film Editor: Hélène Plemiannikov
Sound: Guy Villette; Luis Buñuel (sound effects)
Assistant Director: Pierre Lary
Art Direction: Pierre Guffroy
Costume Design: Jacqueline Guot
Makeup: Odette Berroyer, Fernande Hugi
Production Companies: Greenwich Film Productions [France]; Jet Film [España]; Dear Film Produzione [Italia]
Distributor: 20th Century Fox Film Corporation [USA] / Fox-MGM (BRD)
Runtime: 101 min
Cinematographic process: Eastmancolor; 35mm Spherical, Aspect Ratio: 1.66:1 Widescreen, Panavision Cameras and Lenses Laboratoires GTC, Joinville, France
Sound Mix: Mono
Filming Locations: Studios-Cinéma Boulogne Billancourt / Paris
Release dates: 20 April 1973 (BRD)
Awards: Academy Awards 1973 Oscar Best Foreign Language Film; Nominated Oscar Best Writing, Story and Screenplay Based on Factual Material or Material Not Previously Published or Produced Luis Buñuel, Jean-Claude Carrière // British Academy Awards 1974 Best Actress Stéphane Audran; Best Screenplay Luis Buñuel, Jean-Claude Carrière // French Syndicate of Cinema Critics 1973 Best Film Luis Buñuel // National Society of Film Critics Awards 1973 Best Director Luis Buñuel; Best Film