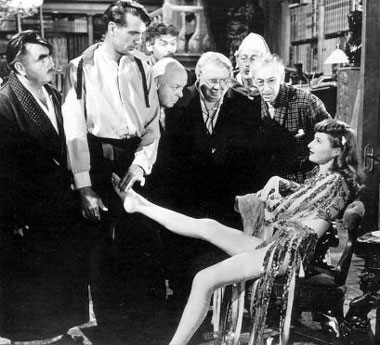 Ball of Fire is a delightful retelling (by Billy Wilder and Charles Brackett) of the "Snow White and the Seven Dwarfs" legend — though strictly for grownups. Gary Cooper is the youngest of eight bookish professors assembling a dictionary of slang. They find a perfect "research associate" in the curvaceous form of stripteaser Barbara Stanwyck, who (chastely) hides on the professors' domicile to escape her gangster boyfriend (Dana Andrews). As Stanwyck interprets various slang expression, she and the professors grow quite fond of one another; she brings out their sentimental sides, while they revive her essential decency. Naturally, Cooper is the one most smitten, though he hides his true feelings until the inevitable clinch. When gangster Andrews and his torpedo Dan Duryea show up to claim Stanwyck (Andrews wants to marry her so she can't testify against him), the professors save the day and it is Cooper who ends up with the beautiful Stanwyck. For the record, two of the "ancient" professors are Richard Haydn and O.Z. Whitehead, still in their mid-thirties (the others are S.Z. Sakall, Tully Marshall, Oscar Homolka, Leonid Kinskey and Aubrey Mather). Producer Sam Goldwyn later remade Ball of Fire as a Danny Kaye musical, A Song is Born (1948).
Hal Erickson, All-Movie Guide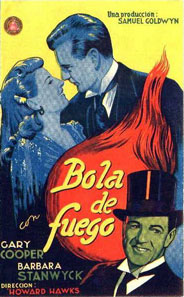 Marvellous performance from Stanwyck, all snap, crackle and pop as the brassy nightclub entertainer Sugarpuss O'Shea who seeks refuge with seven crusty old professors (plus Cooper) to escape unwelcome attentions from a gangster, and whose vocabulary (not to mention charms) excite delighted wonderment in the professors since they have just reached 'Slang' in the encyclopaedia they are compiling. Rather surprisingly, Hawks slightly muffs the sequence in which the gangster amd his aides get their comeuppance; otherwise his handling of the sparkling Brackett-Wilder script and its subversions of Snow White and the Seven Dwarfs is pure joy.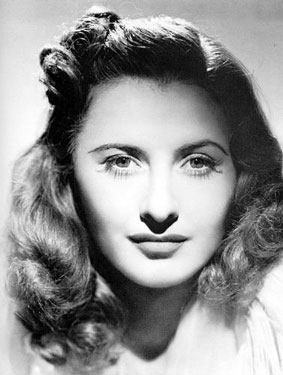 Barbara Stanwyck
---
The zany screenplay by Billy Wilder and Charles Brackett, deep-focus photography by Gregg Toland, and, finally, the sparks lit by ball-of-fire Stanwyck under Cooper's hilariously demure Potts, make this underrated Hawks comedy a gem.
The setting has all the trappings of our man Hawks, Mr. Twentieth Century with a "weird Mother Hen instinct" (Manny Farber). Eight mossy professors are living and working together to update an encyclopedia which becomes obsolete faster than the doddering pedants can down their morning prunes. Among them, Professor Potts (Gary Cooper) stands out as the youngest, although perhaps the more priggish for his youth. At S for Slang, a field trip turns up a gold mine of information in the form of Sugarpuss O'Shea (Barbara Stanwyck), a nightclub singer and gangster's moll, whom the gentlemen adopt as their own Snow White. The sparks lit by this long-legged ball-of-fire under Cooper's hilariously demure Potts make for a belated coming-of-age. "The regression of intellectual man to the level of caveman is accomplished here in the fast raucous style which is invariably the Hawksian trademark." (Andrew Sarris)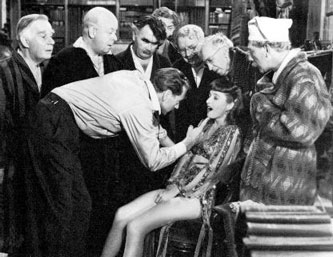 Superficially, Ball of Fire can be placed within the framework of the Howard Hawks "group" film: eight men, united in one coherent activity, and a girl, the equal of any or all of them. But this definition applies just as aptly to Snow White and the Seven Dwarfs which Ball of Fire is a peculiar and endearing sequel. The Brackett-Wilder script (from an idea by Wilder and Thomas Monroe) clearly sets the tone and dominates the film. There are fewer Hawksian digressions than usual, perhaps because the director was working for Samuel Goldwyn for the first time since he was fired from Come and Get It, five years earlier; or perhaps because he simply found the script to his liking. At any rate, the "group feeling," among Ball of Fire's innocent academics is far closer to the gentle camaraderie of Comrades Buljanoff, Iranoff, and Kopalski in Ninotchka than to the more standard tight-lipped heroics of the Hawks groups in his westerns and air epics. If Robin Wood finds the film's "mellowness" somewhat "surprising," it is probably because Hawks recognised that his trade-marked tempo would be inappropriate to the temper of this particular group, and adapted his style accordingly with mixed results.
I mentioned that Ball of Fire bore comparison with the Disney cartoon feature, and also that the film was about eight men and a girl. There's no contradiction here, because although Gary Cooper, as Professor Bertram Potts, masquerades as the eighth (and youngest) dwarf throughout most of the picture, his final victory over Dana Andrews' Damon Runyon version of the wicked queen proves Cooper to be a budding Prince Charming. Cooper is as likable here as he had been ludicrous in Mr. Deeds Goes to Town, although there is a vague family resemblance. In Ball of Fire, however, Bertram's use of "fisticuffs" to defeat Joe Lilac is merely an extension of his research: he prepares for the fight by speed-reading The Manly Art of Self-Defense. Moreover, his identification with an eccentric group of professors helps to make him more absurd and more attractive. That he dares to fight an underworld bruiser at all is due to his love for the pugnacious Sugarpuss O'Shea. Their late-blooming love gives him physical courage and her the potential for a gentler life; emotional interaction makes both of them complete.
Barbara Stanwyck was in danger of becoming typecast: as with two of her other 1941 films, she spent most of Ball of Fire playing her leading man for a sucker. Even her shills' nicknames are alike: in The Lady Eve she called Henry Fonda "Hopsy"; here she calls Cooper "Pottsy." Again she falls in love with her sucker. Again her ruse is discovered just as she is about to confess and reform. But Brackett and Wilder refrained from the delicious complexities of Sturges's film. In that one, the plot went: Boy Meets Girl, Boy Loses Girl, Girl Blots Revenge and Gets It. Here things build up to a fairly traditional confrontation between the two men—one all-good, the other all-bad—who want the girl. Since conflicts (such as the Potts-Lilac rivalry) are less interesting in Ball of Fire than the various aspects of community spirit (the professorial "group," and then Sugarpuss's initiation and acceptance into it), the denouement is more let down than build-up.
But Hawks has problems of pace throughout the film. Part of this is imposed: the film stops dead for seven or eight minutes while Stanwyck is introduced singing a monotonous boogie-woogie and Gene Krupa beats out a couple of interminable drum solos. (Robin Wood would be hard put to make the eloquent case for this interlude that he made for Ricky Nelson's song in Rio Bravo.) There's a more basic difficulty, however. The professors set a benign and reflective pace in the opening scenes that Sugarpuss's intrusion jars. We like the relaxed tempo of the movie so much that we don't want it shattered by Sugarpuss. For a few scenes after her arrival, Stanwyck seems unpleasantly incongruous, like a cheerleader at a chess game. There is a tension, of rhythm as well as of character, that Hawks surely did not intend.
I'm not sure that the director could do much about this. The script reads beautifully, and it plays well; the characters are full enough to make gag lines unnecessary. It's the sort of comedy one smiles through, not the kind that strains for explosions of laughter. But the finished work does seem slow—contemporary reviewers noticed this—and, since no other director worked on the same script (though Hawks's remake, A Song Is Born, was a failure), any speculation on Hawks's culpability would be idle at best, and captious at worst. And yet, I can't help but blame Hawks for making anything less than a memorable film out of one of Brackett-and-Wilder's most civilized and congenial screenplays.
Richard Corliss: Talking Pictures. Screenwriters in the American Cinema.
New York 1975, p. 143-145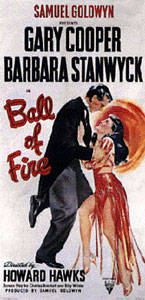 Director: Howard Hawks
Screenplay: Billy Wilder, Charles Brackett (based on the story "From A to Z" by Thomas Monroe, Billy Wilder)
Producer: Samuel Goldwyn
Director of Photography: Gregg Toland, A.S.C. (b/w)
Original Music: Alfred Newman
Additional Music: Songwriter Gene Krupa
Film Editor: Daniel Mandell
Sound: Thomas T. Moulton
Assistant Director: William Tummel
Art Direction: Perry Ferguson, McClure Capps
Set Decoration: Howard Bristol, Julia Heron
Costume Design: Edith Head
Production Companies: Samuel Goldwyn Company
Distributor: RKO Radio Pictures
Also Known As: The Professor and the Burlesque Queen
Runtime: 111 min
Cinematographic process: Black and White, 35 mm Spherical, 1.37:1 Academy Ratio
Sound Mix: Mono, Western Electric Mirrophonic Recording
Release dates: 9 January 1942 (USA) / 18 May 1942 (UK) / 24 May 1976 (BRD, TV ZDF)
Awards: Academy Awards 1942 Nominated Oscar Best Actress Barbara Stanwyck; Best Music, Scoring of a Dramatic Picture Alfred Newman; Best Sound, Recording Thomas T. Moulton (Samuel Goldwyn SSD); Best Writing, Original Story Thomas Monroe, Billy Wilder